By Emma Kennedy (Chill's Safety Culture Padawan in Training)
On the 10th June I attended the Annual Supply Chain Symposium at the Brisbane Convention Centre. Out of 150 people I had the opportunity to listen to numerous speakers from across the supply chain spectrum about how safety is important to their business and how we can adapt some of these ideas into Chill.
Victoria Sherwood, General Manager Supply Chain for Boral. 
First up I had the pleasure of listening to 3 wonderful speakers from Boral & Newscorp. Firstly, Victoria Sherwood, she is the current General Manager Supply Chain for Boral. Victoria explained how she went into St Laurent in West Africa and was able to help set up the ground work for a Timis Mining Corporation. The main part of Victoria's speech which engaged us – was the impactful & positive change to the people of St Laurent.
The community hadn't even seen a train before. 
Remember this is a 3rd World nation. The town doesn't even have running water, power or any basic facilities that we as 1st world country enjoy and take for granted. Bringing clean water to the towns by setting up wells providing access to fresh clean water, putting in a train line, (which by the way) no one had ever seen before. Imagine this…the last train line through St Laurent was many decades ago. Only the elders in the tribes remembered what a train was. Having this mine set up brought hundreds of jobs to these communities, and in turn brought a new culture with it.
Change was positive and negative. 
No one prior to this had any concern or experience for that fact around safety.  This had both a positive and negative effect on the company. On one hand; safety could be developed from the ground up, starting with the basics and being able to get the St Laurent people to understand how to work safely and get home safely to their families. The downside, Timis Corp (who were contracted to help set up the business) cut corners and operated outside safe working conditions & environment. And were sent home as a consequence.
Are you looking out for your brother? 
This is where the title for this blog "Safety – Are you looking out for your brother?" this was Timis moto and still is. Are you looking out for your buddy, are you making sure that not only you but your colleagues are going to go home safe to your families each day.
After we had a quick morning tea we went straight into the Breakout Sessions. There were a number of different sessions you could choose; I chose Improving Works Health session as I thought that this would be beneficial to bring back to Chill. In this session there were 2 speakers Melanie McGaw – Workplace Health and Safety for Department of Housing and Public Works. (Good Design for worker's health across the supply chain, bases on the light rail project on the Gold Coast) and Pam Knobel – Principal Advisor Ergonomics, WH&S QLD (Impact of the supply chain on musculoskeletal disorders and work related stress)
Good design for worker health across the supply chain.
Melanie McGaw spoke about how you can improve repetitive stress injuries (RSI) in the workplace. This came down to how the equipment was designed, it seemed apparent that with a lot of companies a developer wouldn't speak to the person using the equipment before going ahead and approving a design. The design of the gear stick that was installed in the tram system created more RSI related injuries because of the poor design. The part of this talk that I was able to walk away with was that when designing something it must be tested for the lowest common dominator.
Impact of the supply chain on musculoskeletal disorders and work related stress
Pam Knobel was up next. Her topic was very informative & relatable. We could certainly use her insights to bring into Chill. Musculoskeletal Disorders are found in every business, a person who sits at their desk all day to a driver who jumps in and out of the truck. Here are some facts that I took away.
6 to 10 injuries claims are from the road freight industry
$53,000 in works compensation claim payments and a total of 34 weeks off a year
In the category of sprain and strain
$18,992 is spend in workers compensation payments
$75,970 in other forms of claims
This is an outstanding amount of $94,000 per year
There are many factors that can cause Musculoskeletal Disorders which I have listed below and also have the ways that we are able to fix these issues and have less employees off work which will result in happier staff and a happier work place.
Work Stress

Work load
Low Control
Poor Support
Role Clarity
Poor Managed Relationships
Time pressure – time slot allocations, customer expectations.
When drivers were surveyed these are a few of the things that they said were factors that can cause stress which can result in Musculoskeletal Disorders
On Road Issues
Unsafe actions of other road users
Impact of current weather
Road conditions
Time Pressures
Scheduling of time slots
Customer expectations
Drivers having little input into their schedules
Enforcement agencies impacting on drivers (Main Road, Police, Transport Authorities)
Impact of Sales people coming back with tight time frames
Deliveries
Loading and unloading
Unsafe interactions with the public
Onsite traffic management
Delays while waiting to be loaded and unloaded
Lack of Mechanical aids (e.g. forklift broken onsite or pallet jack not working)
Shopping Centres with poor parking
Parking Areas in general.
One of the main things that were discussed was the clarity over who should be in charge of the loading and unloading of trucks on site, should it be the receiving end or the driver that is to use the forklift to unload the vehicle. At Chill all of our warehouse staff will load and unload any 3rd party drivers to save this confusion happening.
Truck Driver – Long Haul & Courier
We went through some statics of truck drivers within QLD and the results were interesting
83% of driver were overweight
38% of drivers drink Alcohol regularly
28% of drivers smoke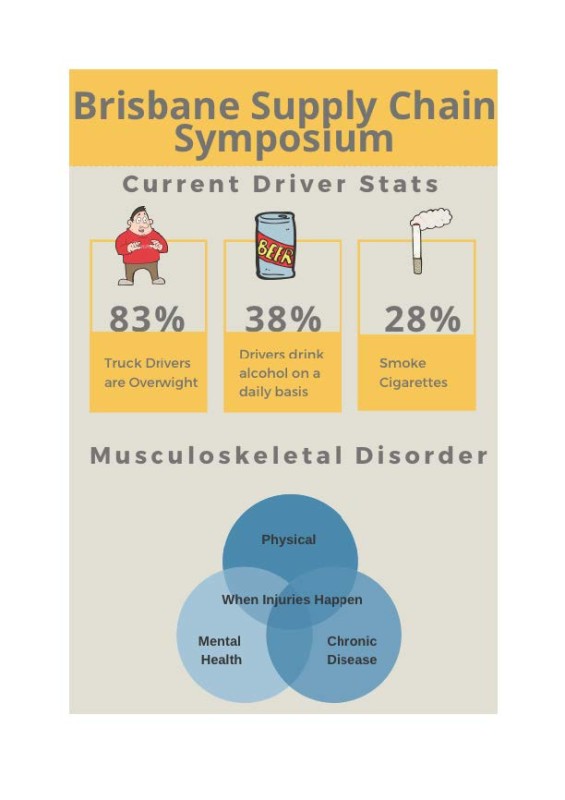 At Chill we want to our drivers to always be happy and heathy and as a part of learning these statics I would like to introduce different incentives to help all Chill staff in getting fit and active to do our part to reduce these statics.
Some of the topics that were discuss to reduce all these factors was to bring in the below control methods.
Risk Assessments/Risk Management
Worker Consultation before changing any task
Mechanical Aid – Making sure all forklifts and pallet jacks are serviced regularly.
Training – Making sure all staff have the correct training before starting any task.
Employee Assistance Program – Someone the staff can go to talk. This is more based around mental illness in the workplace.
All in all, it was a very educational day and I have learnt a tonne of things that I wish to bring into Chill to help grow and develop our Safety Culture.