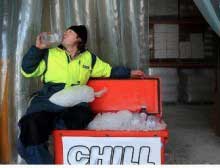 ANDREW Wade has arguably found one of the best spots to escape the record heat tomorrow.
While a majority of peninsula residents will swelter on one of the hottest days on record, Mr Wade will be at work.
That means popping in and out of coolrooms and freezers with temperatures ranging from -20C to 18C.
What are you planning to do tomorrow to cope with the heat? Comment below
Mr Wade co-owns Chill Mobile Cool Rooms at Brookvale. Tomorrow he will be working at their large static coolrooms and freezers, which opened in December last year.
It will be an enviable task as Sydney is set to be blasted with arid northwesterly winds, with temperatures expected to climb to 43C in Sydney, according to the Weather Channel.
"It's the only place to chill on a day like (today)," Mr Wade said.
Mr Wade noticed an increase in last-minute mobile cool room bookings over the weekend and was expecting more today.
Another business that had a bumper last few days was Home Appliances Harvey Norman at Balgowlah. Franchisee Rob Nelson said fans in particular had been flying off the shelves.
"We have had a large amount of fans sold over the weekend and today (Monday)," he said.
Manly Waterworks park manager Daniel Forlonge was expecting their visitor record to be broken tomorrow as parents seek out places to cool off with their holidaying children.
They had bypassed their previous record by 25 per cent on Friday, with about 600 children visiting the water park.
A spokeswoman for Hoyts cinemas, which runs the cinema at Westfield Warringah Mall, said cinema visits had already proved a popular way of escaping the heat in Victoria.
"All Hoyts cinemas in VIC experienced very strong trade on the especially hot days, so we likewise anticipate the same response at our NSW locations tomorrow," she said.
NSW residents are expected to use a third above average of their daily consumption of energy today as many will have airconditioners on full blast.
An Australian Energy Market Operator spokeswoman said that 13.000 to 13.500 megawatts of energy was expected to be used.
As of today, supply was looking good. But infrastructure damage caused by fire was likely, and that could have an impact on supply, she said.
Taronga Zoo's animals will be pampered with cooling showers and ice blocks.
The zebras will get specially made carrot icicles and the lions will receive milk iceblocks.