Coca- Cola: Share A Coke. Agency: Ogilvy
The campaign gave people a very personal reason to engage with the brand: their name, or the name of their friend, printed on the can or bottle. As the campaign progressed, the public could nominate and vote on which names they wanted to see appear on the next round of Coke cans and bottles. There were also activations where consumers could queue to get their name printed on a can. (And from what we read, they cued for hours). The campaign exceeded expectations according to Marketing Mag, with millions of Australians getting together to "Share a Coke" either literally or virtually. Key media & celebrity influencers with a large social media footprint were identified and sent personalised seeding kits with a Coke product bearing their name, including campaign messaging to share with their network of fans.
Art Series Hotels. Agency: Naked Communications
Naked tapped into Melbourne's history of art heists to urge guests at the city's hotel group to 'Stay the night. Steal the art'. Using work by street artist Banksy, hotel guests were encouraged to track down and steal it straight from the hotel walls. Naked's solution was to hang a Banksy and ask people to 'Stay the night to steal the art'. The campaign gave guests the chance to tap into their darkest of human motivations without fear of prosecution. If they could steal the Banksy without being caught, it was theirs to keep. Up for grabs was 'No Ball Games' which was once stolen off the streets of London using an angle grinder. The artwork was exhibited and moved around between the three hotels with clues to its whereabouts shared via social media. The campaign attracted media attention from around the world including coverage from The New York Observer, LA Times, Daily Telegraph UK, The Huffington Post and CNN.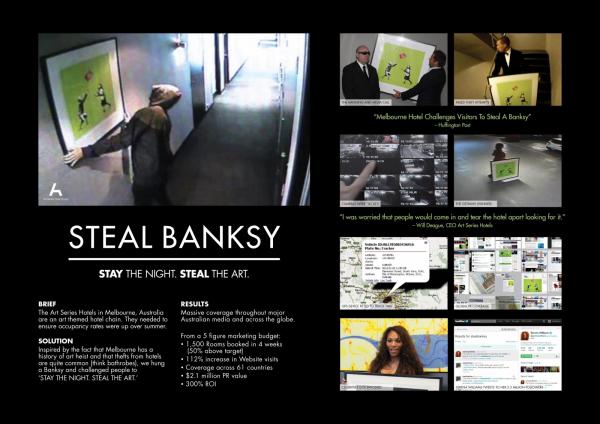 XXXX GOLD: XXXX Island Agency: BMF, Momentum Worldwide,Octagon,Res Publica, The White Agency

Beer brand XXXX Gold Created XXXX Island especially for its drinkers, who were invited to enter a competition to be able to stay there. In the ongoing battle to stand out in the cluttered beer category, XXXX Gold has gone beyond traditional promotional marketing and bought a 15-acre island in the Barrier Reef to be the ultimate destination for mates' trips away. The Island opened in 2012 and XXXX Gold plans to keep it open for several years. The island, which is to be called appropriately enough, XXXX Island will offer Aussies the chance to experience what XXXX GOLD terms the 'good life' – a relaxing few days where you can do as little, or as much, as you want with activities including fishing, touch footy, beach cricket, swimming in the ocean or simply barbecuing the catch of the day with a beer in hand. Anna McMillan XXXX marketing manager said: "Really busy lives, often juggling family and work commitments is ever present. We wanted to create something larger than life, something that gave Aussies the chance to get away and hang out with their mates."
Virgin Mobile: Fair Go Bro. Agency: One Green Bean, Euro RSCG (now Havas World Wide Sydney)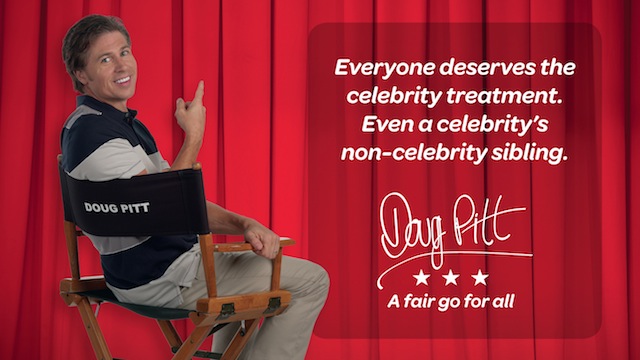 The campaign kicked off with a three – minute film online encouraging viewers to 'give Doug some Like', which got 1.2 million views in a week. Then, Doug came to Australia. There was a competition for consumers to win a place in Doug's entourage. According to its latest Brand Health results, there was a massive 21% jump in awareness and 23% increase in consideration for Virgin Mobile from June to August 2012. Virgin Mobile attributes much of this success to its Fair Go Bro campaign, which saw it give Brad Pitt's brother Doug a fair go and a taste of the cele-bro-ty lifestyle, as the face of its campaign. Virgin Mobile's marketing director David Scribner said: "With consumer engagement paramount to success, we wanted push the boundaries and develop a campaign that had social and mobile at the heart of it."
 Masterchef: Masterchef Dining. Agency: The Projects
Like all pop-up projects, MasterChef Dining was a race against the clock. Barker and Bedwani had just eight weeks to conceive and launch the space. "Time was really against us," Barker says. "We really had to pull together all our contacts and suppliers." But first, they had to secure a site. After looking at Andrew (Boy) Charleton pool in Wooloomooloo, as well as various sites around the Botanic Gardens and Sydney Harbour, they decided on the forecourt of St Mary's cathedral. Now in its fourth season, and with plenty of fans to boot, MasterChef is a force to be reckoned with. And that's exactly what Carrie Barker and Jack Bedwani from the projects* dared to do when they were approached by Shine 360 and Network Ten, the custodians of the MasterChef brand, and asked to bring the series to life. The result, MasterChef Dining, saw some 3500 guests wined and dined in a temporary dome structure in the heart of Sydney's CBD. Diners tasted meals that had been created on the show and met professional chefs who had appeared on the show, as well as past winners.
Lego: Festival Of Play. Agency: One Green Bean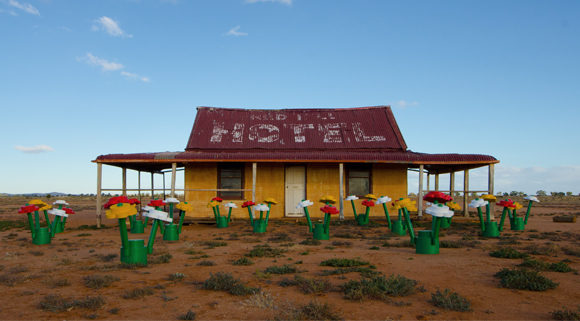 2012 marks the 50th anniversary of the LEGO® brick in Australia. To commemorate the milestone, LEGO Australia asked Green Bean to come up with a creative concept with their sister agency Host that would inspire young and old and commemorate the first humble LEGO brick arriving in Australia. To celebrate the 50th anniversary of Lego's arrival Down Under, One Green Bean devised a number of experiential activations. One of the biggest was the Lego Forests – one in Martin Place, Sydney, and another in outback NSW town, Broken Hill. Festival of Play, is a nine-month schedule of activity set to pay homage to the LEGO brick, encouraging kids and adult fans alike to celebrate through play.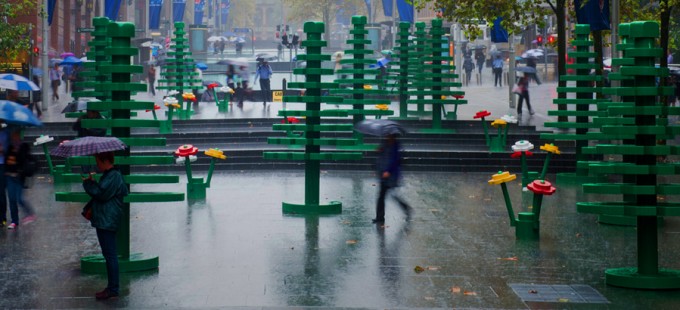 References: Ad News, Marketing Mag (online) B & T Magazine. (Bandt.com.au)