PLANET EARTH is a complex and dynamic system always trying to balance itself and reach equilibrium. However, various factors tend to disrupt natural processes and throw them out of sync. These factors can include natural variability consisting of El Nino and La Nina events or manmade processes. The latter is of most concern to us today and to our forthcoming generations.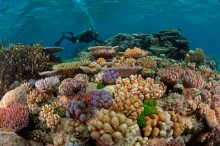 The importance of understanding the effects of climate change underlies the notion that while natural climate change has happened previously, it occurred over long periods of time, enough for the environment to respond accordingly. Since the start of the industrial revolution human impacts have rapidly changed natural processes – far too quickly for the environment to respond and adapt.
Global warming, Ocean acidification and Coral bleaching are just a few of the many characteristics of human induced climate change. These factors influence whole populations of organisms which either succumb or adapt to this change. Over time people have become aware of these changes and the implications climate change has on the environments and organisms we share this earth with.
Reductions in the amount of fossil fuels we burn and implementing alternative ways to reduce our impact on the environment will decrease the stress that we are placing on Mother Nature. Here, at Chill, we are facilitating and contributing to a global change in the way we direct our environmental responsibility towards a sustainable future. Cleaner, more environmentally friendly initiatives have been set in motion by Chill which will, in turn, gain momentum.
A minority can evolve into a majority where INDIVIDUALS do count and EVERYONE can make a difference.
Attached is a documentary from BBC presented by Sir Paul Nurse conveying the need for effective scientific communication to the public using specific examples of Climate change and genetically modified foods. If you are interested in Climate change, we recommend you view this documentary. It will open your mind. You make the final decision. Get all the facts.
http://www.youtube.com/watch?v=OYIZ-dfCito
This blog was posted by Sam Brown. Sam is currently studying a Bachelor of Marine Science with a major in Marine Geoscience. Sam works for Chill as a valued member of our team in Special Ops. We are really excited to have Sam provide an insight to the very topical debate around the globe on Climate Change contributing to our Planet Chill platform.
Join us at Planet Chill. Plunge into the Great Barrier Reef & see beautiful images of this amazing underwater landscape at Planet Chill. Be part of the Sustainable conversation wave. Not only do we wish to open the discussion on Sustainable efforts, Planet Chill will be used to bring to life other issues within our community. It will be for those who are passionate about improving the world we live in, whether it be environmental, social, political or economical.