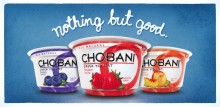 Have you heard of Chobani yet? Well, if consumer's like to buy their food products based on quality, nutrition & tastes like the real deal, then get ready for Chobani. This brand, is going to be talked about amongst the foodies. Perhaps, you have seen the Chobani team handing out product in your local area or in transit on the way to work? This number 1 selling & much-loved yogurt brand in America, Chobani has launched its flavoured Greek yogurt range in Woolworths' stores last year in November 2011. And Chill was there, right amongst it;
Straight off the plane & into the warehouses, Chill was hitting the road before the client was saying, let's go! The arrival of 40+ Pallets of Chobani yoghurt from the U.S & into the hands of the consumer within 3 weeks, was one of our most challenging periods. Just weeks from Christmas & in the peak of product sampling & logistics work, all hands were on deck to ensure everything was logistically running smoothly.
Chobani's launch in Australia marks the first international expansion for the brand. Chobani's CEO and Founder Hamdi Ulukaya said, "We chose Australia as our first international market because we know that Australian consumers are passionate about food, and we hope they'll love Chobani as much as our American fans do. Our goal is to grow the yoghurt category in Australia. Our launch in NSW is the first step towards bringing Chobani to all of Australia."
Forbes, even called Chobani head Ulukaya the Steve Jobs of yoghurt. From Zero – $700 Million in just 4 Years, that is one amazing story for a man from Turkey arriving on the shores of America to learn english & business as his priority. Read the inside scoop here:
Wrapping up the Chobani campaign for our client Kreate, launching Chobani into Australia was always going to happen on an impressive scale as on of the fastest growing companies in the U.S. Chill look forward to nurturing the relationship with our client to continue it's expansion into the Australian market place. Chobani, is here to stay & we believe that the Australian consumer's are going to love Chobani.
A few Chobani facts:
As part of the company's 'Nothing But Good' philosophy, Chobani is committed to supporting local farmers surrounding its production sites, including its Melbourne-based plant in Dandendong.
It gives a portion of its annual profits to charities worldwide through its Shepherd's Gift Foundation, the company's charitable arm.
All Chobani products are gluten free, Kosher certified and provide double the protein compared to regular yogurt with five live and active cultures, and three strains of probiotics.