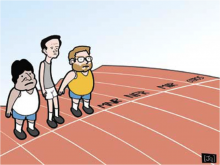 Competition can provide a pivotal point in your business for change. As we learnt when our entire website was plagiarised word for word from a well-known supplier in the hire & rental sector. Of course, at the time we were furious. Once the storm settled, we took this as a sign that we were obviously doing something right & this forced us to think hard about the evolution & direction for Chill. What was initially a negative blow, it impacted the business in a positive way for change.
In the beginning, Chill was a simple start up mobile coolroom business with only a few competitors. As the years progressed – the market became saturated due to low barrier to entry & it quickly became a very competitive market. Short-term rentals are labour intensive in relation to the small cost's of the service with competitor's price matching, which ultimately ends up driving down rental rates.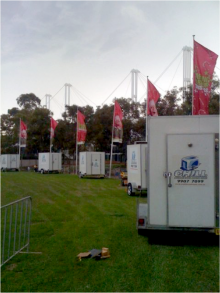 In hindsight, reflecting back on the situation the supplier become competitor did us a favour to rethink about serving a different customer, examine the business to identify our competitive advantage & to differentiate ourselves.
Let's face it, our competitor's are solving the same problem, however, in most cases they will be providing different solutions. Chill was in a fortunate position that market characteristics were ripe for growth – satisfying an immediate need in the community to make the transition from supplying coolroom products to an entire new customer base, service output & offering at a time when there was inadequate supply of solutions to meet that need. Chill revolutionised the way people store & served temperature controlled fast moving consumer good's (FMCG) in the experiential marketing field delivering end to end logistical solution's.
And so the story goes a little something like this….
As mainstream media budget's were becoming a thing of the past, marketer's required a more integrated approach to spend their client's advertising dollar. Hence the experiential market trend was born to engage customer's face to face in way's that were interactive & effective. Chill capitalised on the technological & economic change that formed a trend in relationship marketing for our client's. By changing the business focus, from a supplier of tangible assets to an emerging supplier of logistical services for World Leading FMCG has allowed us to carve out & protect a niche in the experiential marketing game. With the growth of the internet & mobile platforms (back then) experiential marketing is now among the fastest growing segments of the media economy.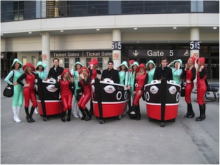 Chill works with marketing, event, advertising & public relations manager's to bring their experiential marketing ideas into action to gain the necessary understanding of the brand & product specifics requirements to execute their campaign from the time it leaves their warehouse until the time it comes into contact with the hands of the consumer.
We are in the business of solutions – what we "sell" is peace of mind to our client's that the job is going to be done right, so they can sleep at night. We take the logistical complication of juggling the many components, so they can sit back & chill. In the words of one our clients: "I have peace of mind that its going to be done right. So it is absolutely worth what I pay for – I'm getting the service, but I am also getting a good nights sleep too!"
Of course, wouldn't business be easier without competition! Competition reminds us to focus on why we are in the game, provides opportunities for creative thinking & stops complacency. We aren't fixated on them, but we can't ignore them either. Every single day brings us new challenges. And this makes it exciting.
A few simple tips from the hand & heart of Chill:
Periods of growth have often come in hindsight. We did some things wrong & some thing's right. Learn the lesson's from those mistakes & move on.
Challenge conventional approaches & find a better way. Avoid complacency. Don't be afraid of change – resistance slows progress. Go out & meet it. Ride the wave.
It's good to see how your competitor's approach problems. How they grow & identify target markets. You can learn from both their successes & their failures.
Presenting your services in a new & innovative way. For example, the transport industry had a typical perception of being masculine, lacking quality service & bringing new blood from the younger generation. We repositioned & reshaped our branding to be fresh & innovative, products & services to create more value by enhancing customer experience & usage
Finally, here is good advice from Adam Paulisick a really cool company, Qriously that resonates: "competition is actually a good thing, since it provides market validation to an early start-up. Don't be afraid to talk to big players if there is an opportunity to collaborate. You should not worry that they might copy what you are doing. If the big players move faster than you, you probably deserve to lose."