A cool idea & state of the art in mobile refrigeration.
Like good food, wine & scooters, the birthplace of our new mobile accessory Euroengel is manufactured in Italy to the highest standards, so design and function are truly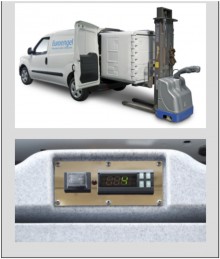 "Advant-Garde". This convenient refrigerated transport solution is ideal for professionals who have to move perishable goods on board standard cars or vans in accordance with food hygiene standards. State of the art in mobile refrigeration, it's ideal for caterers, food stylists, & even a relaxed weekend camping trip. The insulated cooler boxes are self contained units which include the compressor and condenser within the box. The Euroengel product is smart & intuitive mobile refrigeration for transport of perishable goods. Chill are excited to announce that Euroengel by Eberspacher is now available for sale or rent.
Transportable to fit almost any commercial vehicle.
The units are ideal for those professional users who may not be able to justify the expense or do not require a fully dedicated refrigerated vehicle. Temporarily fitted to almost any commercial vehicle, and is transferable between vehicles the Euroengel becomes a portable fridge solution.
It's so smart, so easy, a 12 or 24-volt socket cigarette lighter is sufficient for the cooler boxes and when stationary, they can be plugged into any mains electricity supply system in the world, from 110 to 240 volts. The cooler boxes comply with food safety & hygiene compliance and are easy to clean in accordance with each relevant states FoodSafe standards. This is why even perishable goods are kept safe and germ-free in the long-life containers with their polyethylene wall foam coverings. The cooler boxes are ATP approved and equipped with a digital temperature controller to allow easy setting of the required internal temperature and control of the true internal temperature.
Flexible, convenient & smart thinking.
Fresh food services benefit from the careful transport of food stuffs just as much as catering service providers, who have to respond flexibly to requests: meat, fish, cheese, vegetables and delicate fruit can be carried without deterioration in quality. Their deployment in the military also testifies to the versatility and robustness of the Euroengel. They perform impressively in the field and any busy canteen kitchen. Euroengel from Eberspacher is flexible, convenient and smart thinking. 1300WeChill to speak with one of the Chill crew.